● 28 November 2023 ● All members
Course Invitation! Digital Twin
The course is for you who want more knowledge about digital twin in relation to operation and maintenance.
SDU LSP Center and SIMAC are hosting a course for those who want to know more about digital twin, the communication paths and understanding of data flow. The course covers how visualization is used in operations and maintenance, based in the maritime sector. The cost is only DKK 149 for participation incl. catering!
The course will take place on November 28th, 2023, at 9.30-14.00. Learn how and where in the supply chain digital twin creates value and what considerations and investments that are needed before implementation. One of the objectives of the course is to share knowledge and use of digital twin across industries.
The course will be held at SIMAC, Nordre Havnevej 4, 5700 Svendborg. During the course, you will have the opportunity to discuss and interact with participants from different industries. And to ask exactly the digital twin questions that are relevant to your organization.
The course is developed in collaboration with partners who also works with large constructions:
• Danske Maritime
• Odense Robotics
• We Build Denmark
• Energy Cluster Denmark
• AM Hub
• Blue Tech Center
• NextGen Robotics
The course You will gain knowledge about:
Digital twin in relation to maintenance versus operation, with a focus on the maritime sector.
Data flow – limitations or opportunities.
Communication paths – Understanding data flow.
Value creation for companies regardless of industry
The course will be held by Jeppe Sylvest Carstensen from SIMAC.
We look forward to seeing you there!
The registration deadline is November 23rd, 2023, at 23:59.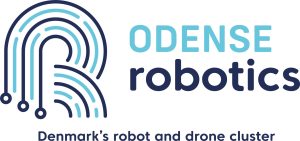 Odense Robotics is co-funded by the Danish Board of Business Development, the Danish Agency for Higher Education and Science and the European Union, as well as a broad range of projects and partnerships.


Information
da
28 November 2023 09:30 - 14:00
5700 Svendborg
SIMAC, Svendborg International Maritime Academy Nordre Havnevej 4
Total price excl. VAT
148 DKK
Head of Innovation
Søren Adamsen Mouritzen
Responsible for the Innovation Team, projects and pipeline