HR Network
Your HR Network
The HR Network aims to provide members with inspiration on HR-related challenges, a place to share HR experiences, and information regarding the best HR tools, fairs to participate in, and much more.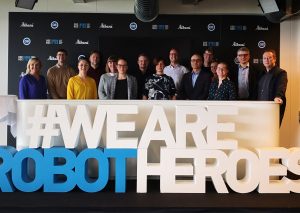 The HR Network is open to employees working within HR at organisations that are paying members of Odense Robotics. Typical members of the network group are HR managers, HR Business Partners, department heads and CEOs.
To join or learn more about the network, contact: Randi Mørk Lildballe, Global Onboarding Manager at worklivestay, who facilitates the network: [email protected].
To see upcoming meetings, go to our Events page
Network meetings help companies grow and evolve. Helping individuals learn and grow through cooperation and creating a positive environment.
The HR Network supports initiatives that we as individual companies wouldn't be able to accomplish on our own and provides contacts to relevant knowledge institutions. I consider this network as a practical network with colleagues from the same industry.
Pia Lærke
PA & Head of HR, Sanovo Technology Group
Contact Odense Robotics
Contant Eva to learn more
Eva Juul Langlands is the Head of Communications for Odense Robotics
Head of Marketing and Communications
Eva Juul Langlands
Responsible for the team, which covers marcomms, events and talent.
Odense