Gain success in the robotics, automation and drone industry
Beyond Beta
Through the new Beyond Beta programme, Odense Robotics helps ambitious startups with exciting innovative solutions within robotics, automation and drones – at the idea phase or already on the market.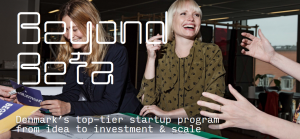 Beyond Beta
Accelerate your startup
Since 2015, Odense Robotics has successfully accelerated the development of more than 30 promising robotics and drone startups in Odense Robotics Startup Hub. Now selected services from the programme are included in a new offer to you. Contact us to learn more.
Application deadline has passed.
What you will gain from Beyond Beta:
You will receive a customised and dedicated plan with coaching and mentoring support from robotics experts and experienced business mentors, who will help you with your business models, strategy etc. to ensure your value creation.
Your startup will also be promoted as a selected and chosen Odense Robotics supported startup on Odense Robotics channels.
You will be offered access to our specialist partners within funding, who will help validate and develop your funding and investor strategies.
By the end of the programme, you will have a validated strategic roadmap for your business development.
Access to industry support
Through Beyond Beta, you will gain access to:
The entrepreneurial sector, specifically startup networks
Mentorship from industry specialists
New sector specific knowledge and matchmaking
Up to 12 months depending on the individual startup.
We will work out a specific plan for your startup based on the unique hypothesis for your business. We will set up meetings with you with appropriate intervals to follow up on your case and to assist with access to our vast network in the industry and more. The programme will help you validate your products, create a strategic sales plan, craft a great pitch and define your funding options.
Odense Robotics will help startups through the programme. We will:
Meet and device a specific plan for your startup based on your specific needs and opportunities.
Offer to promote your startup through the Odense Robotics channels.
Offer you access to our specialist partners within funding.
Contact person
How to enhance your startup
Contact us to learn more about the Beyond Beta programme.
Project Manager
Thomas Gammelgaard
Odense
Project Manager
Mads Stubgaard-Schmidt
Startups and the Fehmarn Belt project
Innovation Manager
Ernest Fuller
Company-focused innovation projects
Odense