Artificial intelligence, robots and drones must give farmers site-specific health status in the field, thus improving quality and yields in agriculture.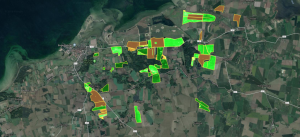 Farmers have for many years studied their land and crops to optimize quality and yield. Over the last century, industrial development has introduced countless new technologies that enable farmers to cultivate more land in less time. The general optimisation has focused on cost reduction, where the core costs have been the consumption of time to cultivate and care for the soil and crops.
In order to maintain the competitiveness of Danish agriculture, it is crucial that we continue to develop and implement new technologies. In the next edition of precision agriculture, data utilisation plays a major role. The industry uses the term 'Internet of Things' (IoT), which describes the possibilities of using new technologies, aligning the huge amounts of data from it and using advanced statistics to get new production-optimising solutions.
In agriculture, they want to intensify production by implementing new technologies to evaluate every square meter of the cultivated land on a farm, regardless of whether the farm has 100 hectares or 100,000 hectares. Sensors on fully automated drones in the air, on observation robots on the ground and from satellites will supplement sensors on agricultural machines, which with high precision and site-specific will provide information on e.g. soil status, crop growth and biological threats to crops. In the near future, this will enable a site-specific decision support system for the next generation of farmer to continue upgrading and improving cultivation practices, nutrient utilisation and increasing crop quality and yield.
In project SqM-Farm, artificial intelligence and the latest forms of sensor technology will be used to obtain specific information right down to the square meter level in a given field. During the growth period, the farmer will thus be able to monitor crop growth, nutrients, diseases, pest infestations etc. on a daily basis.
The system will be demonstrated at Gyldensteen Gods on North Funen, where the project will take advantage of the opportunities to use drones and robots for monitoring crops and thereby demonstrate the potentials in drones and robots for site-specific automatic crop monitoring of plant health and growth.
The purpose is to:
Assist the farmer in deciding where, when and how often a given area should be inspected. This will make it possible to develop the basis for a more detailed business plan for the data collection systems

Further develop camera-based sensors to determine crop growth, nutrient status, disease infestation, weeds and pests in cereals and onions

Further develop affordable drone and robot systems for data collection in agriculture

Develop a decision support system that translates the collected data into useful information for the farmer

Demonstrate how the system will work on a modern farm with cereals, onions and pumpkins.
The project will make it possible in practice to use artificial intelligence to identify areas in the field that should receive special attention. These can be areas that are hampered by nutrient deficiencies, diseases or pests. Analyses based on satellite images must be used to send robots and drones to the designated areas in order to carry out a crop inspection in a cost-effective manner for the farmer. The project must thus help to improve quality and yield in agriculture, and at the same time benefit the environment, as the farmer's presence is optimized and focused in relation to the current conditions in the field.
The project has a budget of DKK 21.9 million. DKK, and is supported by the Green Development and Demonstration Program (GUDP) under the Ministry of the Environment and Food with DKK 14.8 million. DKK in the period January 2018 to December 2022.
Do you want to know more about the project?
Contact Julie Thygesen Rydahl, network and event coordinator, TEK Innovation on tel. +45 24 98 41 00 or email [email protected]
Contact person
Want to learn more about this project?
Curious to find out more about the project and how you can get involved? Get in touch with Ole.
Project Manager
Ole Georg Andersen
Knowledge-based innovation and the Fehmarn Belt project
Odense