Sonderborg Hub
Your hub in Sonderborg
Odense Robotics has a regional hub in Sonderborg. The Hub brings together companies and knowledge institutions in the area through projects, networks and events. The hub is open to all members of the cluster in Sønderjylland, southern Jutland and southwest Jutland. Find out more about the Hub and how you can benefit.
Your gateway
Sonderborg Hub
A gateway for companies and knowledge institutions to innovate, collaborate and knowledge share - that's the aim of Odense Robotics' regional hubs.
If you are a company working with robotics, automation or drone technology in Sønderjylland, Southern Jutland or Southwest Jutland and interested in getting involved in the cluster, then the Sonderborg Hub will be a key touchpoint for you.
Here, cluster members will be able to take part in network groups, events and projects - all designed to help your company innovate and grow and to bring companies closer to potential new collaboration partners in academia or industry.
The Hub was established in March 2021 with support from the Bitten & Mads Clausen's Foundation. The Hub is based on a close collaboration with Sønderborg Vækstråd and is located in their offices.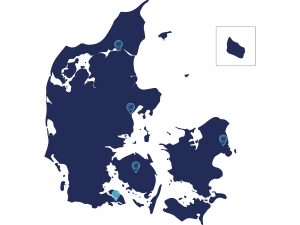 "The Hub in Sonderborg will create better opportunities for companies to take part in local events, knowledge sharing and not least innovation projects, where we can create future robot and automation solutions in collaboration with other companies and universities."
Per Lachenmeier
CEO, EasyRobotics
"We are excited to be a part of Odense Robotics' hub in Sonderborg. It is a great opportunity for us to strengthen our network and collaborate with other companies and knowledge partners. By leveraging each other's expertise within robotic and automation solutions, we not only strengthen our company's development – but also the industry's development here in the region."
Bjørn Davidsen
CEO, GCM
"Being a part of the Odense Robotics cluster and specially the Sonderborg hub offers in my opinion a lot of great benefits for Danfoss Drives. A big company like Danfoss has a lot of internal sparring when solving business challenges, but smaller organisations however have the advantage that they are nimble in their organisation, making the road from understanding your customer needs, to delivering what they want easier and often less complex. Danfoss can therefore benefit a lot from being part of a cluster of smaller and medium sized companies as this will secure a lot of new inputs, ideas and innovative solutions for us as an end customer but also benefiting the robotic and automation companies, who gain closer access to delivering new solutions to a big customer at an industry scale."
Martin Høgsbjerg
Danfoss Drives
Your peers
Members in Sonderborg hub area
Strong industry
Check out
the region
The region is home to a high concentration of leading companies within industrial automation. Many companies are driving innovation within new flexible automation solutions, while others are innovating with the application of robotics and mobile technologies within a production environment. Explore some of the organisations here - more will follow as the Hub grows.
Bitten & Mads Clausen's Foundation have sponsored the cluster and the establishment of the Sonderborg Hub
Danfoss is headquartered in Sonderborg. Their division Danfoss Drives is a member of the cluster
EasyRobotics is one of many companies innovating within flexible automation
Hannemann Engineering develops modular transport solutions
Get in touch
Contact Dennis
Want to find out more about Odense Robotics Sonderborg Hub? And how your organisation can benefit? Reach out to Dennis with any questions.
Business Development Manager
Dennis Svane Christensen
Sønderborg