12. February 2021
StartUp Hub has high success rate, new figures show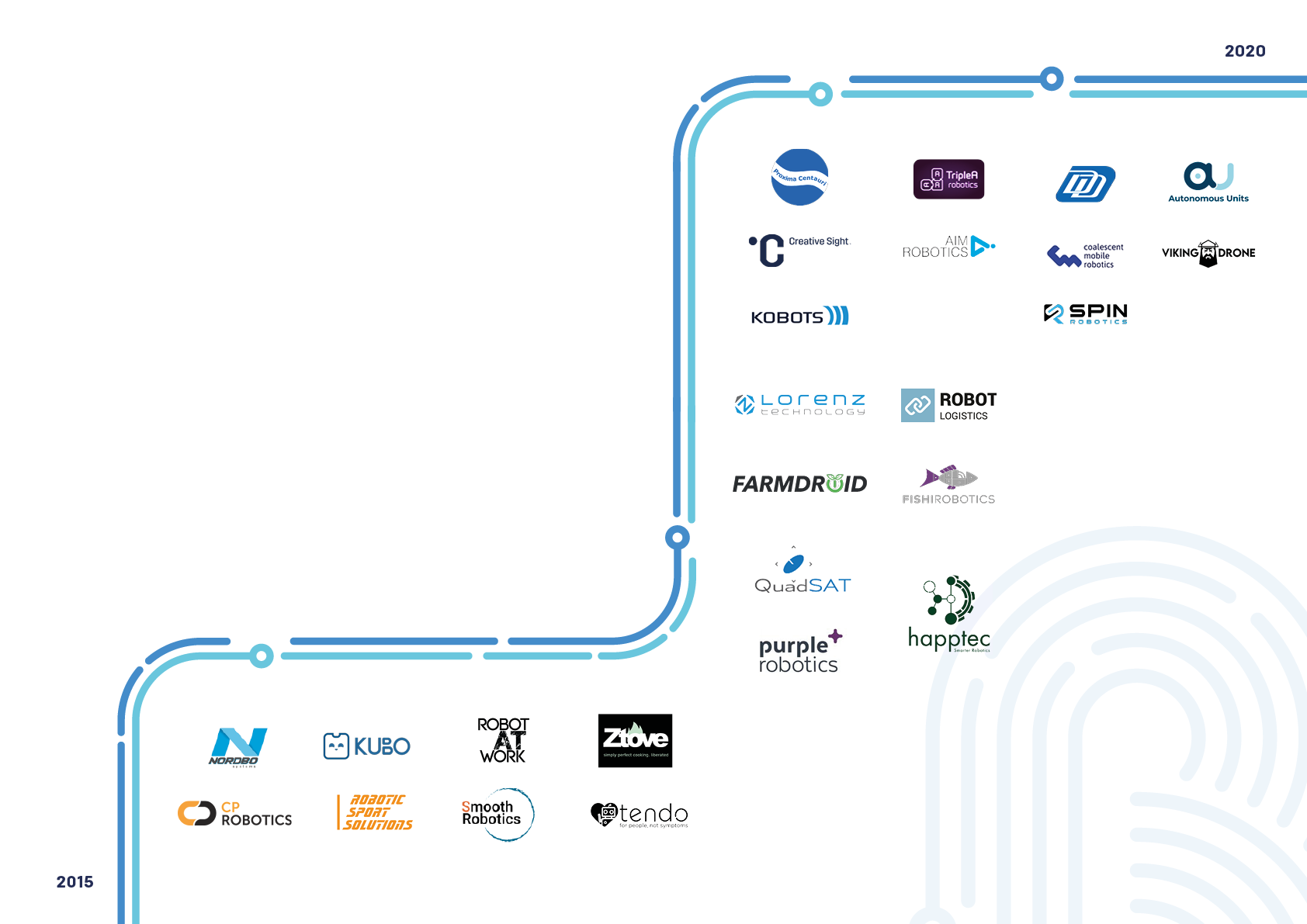 It's five years since the Odense Robotics StartUp Hub was established at the Danish Technological Institute in Odense. New figures show that eight out of 10 startups in the Hub continue to develop their product or company on leaving the Hub – a high success rate that explains why the Hub today has become one of Europe's leading robotic incubators.
The Odense Robotics StartUp Hub was established in 2015 and the first three entrepreneurs walked through the door at the Danish Technological Institute in Odense at the start of 2016. They were the first to secure a place in the Hub's intensive development programme, where they would have the opportunity to develop their innovative ideas into successful businesses in record time with the help of robotic and business specialists.
Today, five years later, new figures show just how effective the Hub's setup is in shaping successful robotic startups. A total of 25 startups have been part of the Hub between 2015 and 2020. Today, these companies employ more than 150 full-time employees. Since 2015, the 25 startups have secured a total of more than EUR 25 million in external investments and more than EUR 6.5 million in equity-free soft money.
Strong success rate
"It's not easy to create an incubator for robotic entrepreneurs. Our new figures show unequivocally that the unique setup at Odense Robotics StartUp Hub works. Eight out of 10 companies continue to develop their product or company on leaving the Hub. That's a high success rate that we can be proud of," says Mikkel Christoffersen, CEO for Odense Robotics.

"The StartUp Hub has grown to become a significant source for future innovations within robotics and drone technologies – not just for industry, but also for a wide range of other sectors such as healthcare, construction, agriculture and the maritime sector. By providing the right conditions for promising startups, we create new global companies and strengthen Denmark's robotics and drone industry."
Around 50 companies are screened each year for eight places. Startups are accepted based on an application – evaluated on factors such as market potential, global scalability, uniqueness and team – and a pitch to an advisory board. Startups typically spend between 12 and 18 months at the Hub, where they have access to tech and business specialists and prototype testing facilities, free of charge. Not least, the Hub helps enables startups to connect with investors, suppliers as well as other companies in the robotics and drone cluster.
Innovation fosters growth
The Odense Robotics StartUp Hub is financed directly by a grant from the European Social Fund (administered by the Danish Board of Business Development), with a financial contribution from the City of Odense. The Hub has played a significant role in strengthening Odense's position as a leading robot city.
"In the course of just a few years, Odense has become recognised as one of the world's leading robot cities. Many successful robot and drone startups have been part of Odense Robotics StartUp Hub and the majority have stayed in the Odense area. Here, they have developed their businesses further – creating growth companies and jobs for Odense," says Odense Mayor Peter Rahbæk Juel.
Future plans
The national cluster hopes to continue to strengthen the Hub in Odense and extend the successful formula to startups across the country in the future.
"We know that there are promising robotic and drone companies across Denmark that would benefit from being part of an incubator programme. As a national cluster, we are focused on providing robotic and drone startups across the country with better conditions for innovation and growth. That's why we are currently exploring ways of building on the Hub's success and extending its value to startups in the rest of Denmark," concludes Mikkel Christoffersen.